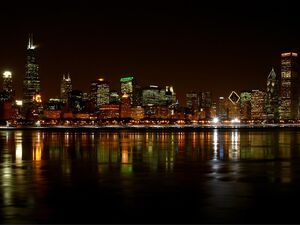 Chicago is the largest city in the State of Illinois, home to Pop-Culture Vampires who find it hard to hide themselves hard pressed, not to walk through movie filming. It's one of the top Vampire Cities in America.
Chicago Hot Spots
Edit
The Enclave
Chicago hottest scene this century, The Enclave is owned by local vampires. Serving as a place to feed while humans drink, dance and meet new friends, it's wise to watch your neck while partying.
The Atrium Mall
The Biggest Mall in Chicago, this old building contains high ceilings, marble floors and ghosts stuck behind locked doors.
Restaurants
Edit
Park Grill
Park Grill's alfresco patio is definitely an eye-catcher - you're nestled in between the heart of Millennium Park and bustling Michigan Ave. What's not to love? a great spot for meeting someone before heading to The Enclave!
Subway
Great food where you eat fresh!
Summer Falls
A beautiful park that houses a man-made lake and plenty of parks for children.