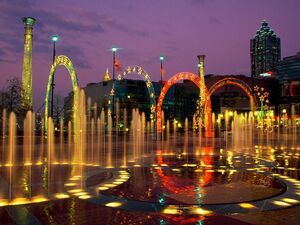 Atlanta is the most populated city in Georgia, home to theme parks and casinos. Its one of the four Big Vampire Cities.
Atlanta Hot Spots
Edit
Ace Wild Resort & Casino
Where the Aces are wild and the drinks relatively cheap, welcome to the Blood Bar of the century! Vampires have rooms in the back of the casino where they feed and gamble, considered the High Rollers of the city. The Resort has a pool on the upper level and 5 star rooms! Come anytime, their ALWAYS open.

Six Flags
Six Flags Over Georgia, with its assortment of world class roller coaster's and Broadway-level shows is the must-do event of the entire year.
Museum of Modern Art
This small Museum of Modern art is funded and maintained by volunteers
Restaurants
Edit
5 Napkin Burger
5 Napkin Burger is an upscale restaurant devoted to the art of the hamburger. The signature is 10 oz of fresh ground chuck topped with rosemary aioli, caramelized onions and melted gruyere on a soft white roll. The full burger lineup includes the all-American Bacon Cheddar, Italian Turkey, Veggie, Lamb, Tuna, Inside Out, Burger Salad and even a short rib burger for two.

Atkins Park Tavern
The Oldest Tavern in town sells, locals swearing that the food is five star and the drinks are perfect!